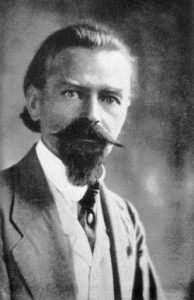 Arnold Ehret was born July 25, 1866, near Freiburg, in Baden, Germany. His father was a brilliant farmer who was so technologically advanced that he crafted all of his own farming equipment. Like his father, Ehret would be endowed with a passion for studying the cause and effect of phenomena. His courses of interest were physics, chemistry, drawing and painting. He also had an affinity for linguistics and could speak German, French, Italian, and English.
At the age of 21 he graduated as a professor of drawing and was drafted into the military only to be discharged because of heart trouble. At the age of 31 he was diagnosed with Bright's disease (inflammation of the kidneys), and pronounced incurable by 24 of Europe's most respected doctors. He then explored natural healing and visited sanitariums to learn holistic methods and philosophies. In a desperate attempt to quench his misery Ehret decided to stop eating. To his amazement he did not die but gained in strength and vitality.
In 1899 he traveled to Berlin to study vegetarianism, followed by a trip to Algiers in northern Africa where he experimented with fasting and fruit diet. Due to his new lifestyle, Ehret completely cured himself of all of his diseases and could now perform great feats of physiological strength, including an 800 mile bicycle trip from Algiers to Tunis. He had rediscovered that pus and mucus forming foods are the cause for all human disease and that "fasting (simply eating less) is Nature's omnipotent method of cleansing the body from the effects of wrong and too much eating."(Hirsch 1994, 9)
In the early 1900's Ehret opened a hugely popular sanitarium in Ascona, Switzerland where he treated and cured thousands of patients considered incurable by the so-called "medical authorities." During the latter part of the decade Ehret engaged in a series of fasts monitored by German and Swiss officials. Within a period of 14 months Ehret completed a fast of 21 days, one of 24 days, one of 32 days, and one of 49 days. He became one of the most in-demand health lecturers, journalist, and educators in Europe saving the lives of thousands of people. In 1914 Ehret moved his sanitarium to California and championed his Mucusless Diet Healing System in America.
On October 9, 1922, at the age of 56, Arnold Ehret suffered a tragic fall sustaining a fatal blow to his skull. According to Ehret's disciple Fred Hirsch, he was walking briskly on a wet, oil-soaked street during foggy conditions when he slipped and fell backward onto his head.[1] Hirsch did not actually see the fall but found Ehret lying on the street. Another one of Ehret's disciples, Benedict Lust, maintained that Ehret was wearing his first pair of new dress shoes and slipped as a result of his unfamiliarity with the footwear. (Lust 2002, page preceding i) To this day the true nature of Ehret's death raises many suspicions among Ehretists. Ehret's powerful healing successes along with his influential and revolutionary new lifestyle terribly threatened the medical, meat, and dairy industries. Due to these factors many believe that foul play was involved in Ehret's untimely death.
Arnold Ehret is a cultural icon and was an important protagonist of the emerging back-to-nature renaissance in Germany and Switzerland during the latter part of the 19th century. (Kennedy 1998, 9-10) The influence of this renaissance spread to America and influenced many of the countercultural movements including the beat generation, the vegetarian driven "hippie" movement, veganism, and fruitarianism. Throughout the 20th century the teachings of Ehret have thrived and developed through the sincere efforts of a small group of dedicated Ehretists. Today Ehret's teachings are gaining wider acceptance throughout the world as people discover for themselves the undeniable truth of his teachings.
The Healing System: Introduction